Rail Fasteners Supplier for Railway in Desert
Sep 07, 2022
The total length of the Hotan-Ruoqiang Railway is 825km. On June 16, 2022, the Hotan-Ruoqiang railway was put into operation, and passengers can arrive in 11 hours and 26 minutes. The Hotan-Ruoqiang railway, the Golmud-Korla Railway( Ruoqiang Korla section), Southern Xinjiang Railway( the Korla Kashgar section and Kashi Hotan section) together form
the world's first desert railway loop - Taklimakan Desert Railway loop
with a length of 2712km.
So far, China has completed the "last piece of the puzzle" of the world's first railway line around the desert in Taklimakan-- the largest desert railway. Completing the world's first railway line around the desert has benefited tens of millions of local people of all ethnic groups. As a professional manufacturer of railway fasteners in China,
Anyang Railway Equipment Co., Ltd
provided a total of 2,795,976 sets of rail fastening systems and 127,895 pcs of rubber products for Hotan-Ruoqiang Railway, Golmud-Korla railway, and Southern Xinjiang Railway, it provided powerful support for the development of China's railway construction.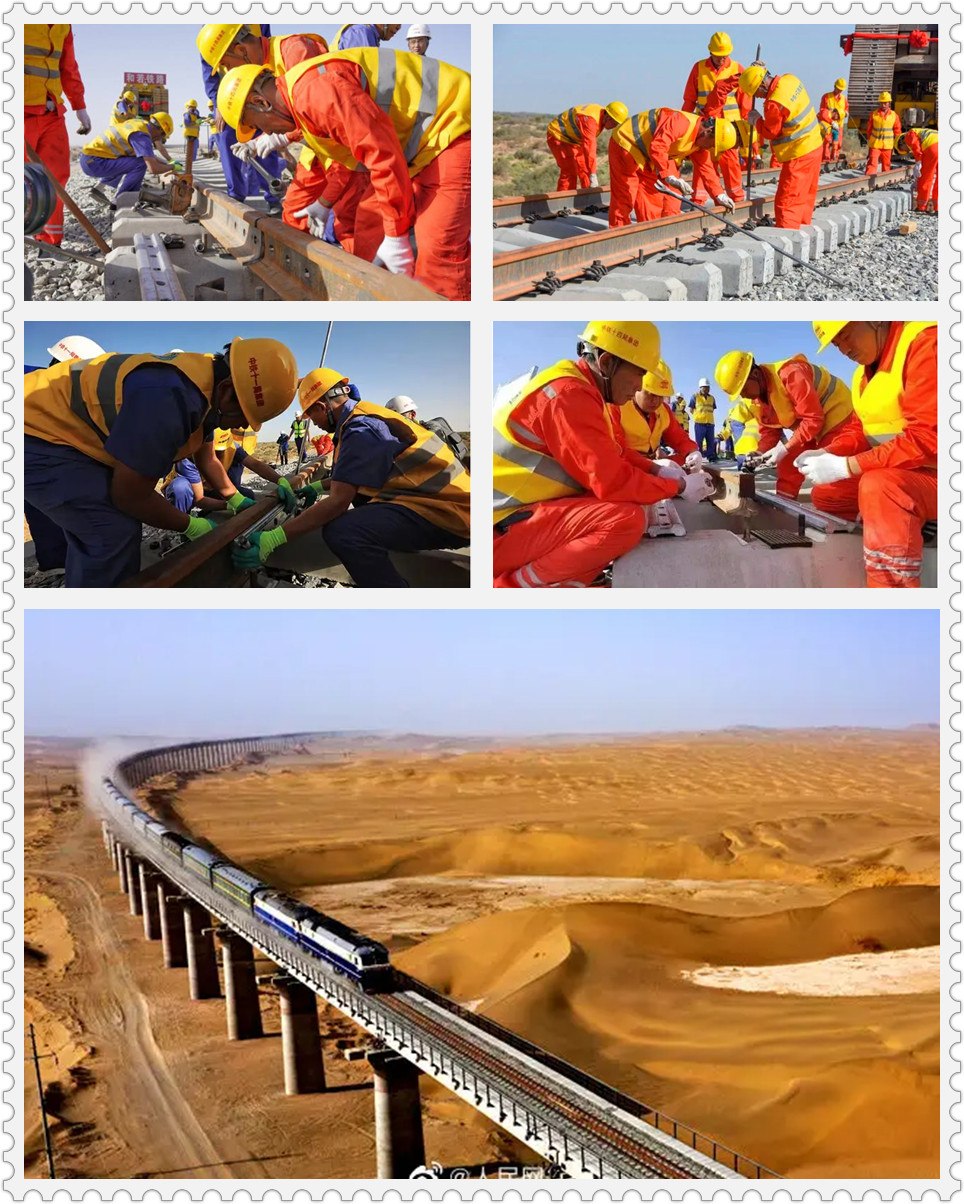 1. Hetian-Ruoqiang Railway
Hetian-Ruoqiang Railway is a National Railway Class I railway connecting Hotan City and Ruoqiang County in Xinjiang Uygur Autonomous Region, China. The east extension project is a convenient transportation channel for the southern Xinjiang region to communicate with the northwest and southwest regions. The length of the Hero railway line is 825.476 km and the design speed is120 km/h, the Hero Railway officially started construction on December 20, 2018, and the entire line was laid and completed on September 27, 2021. It is expected to open for operation in June 2022. During the 2019-2021 year,
Anyang Railway Equipment Co., Ltd
. Supplied Heruo Railway with 151,473 sets of I-type general-speed railway fastening assembly (used for 50kg/m rail, TBT/T1495 standard) and 1,295,847 sets of II-type general-speed railway fastening assembly (used for 60kg, according to special line 3351, TBT/T 3065 standard). The total sales contract is 52.97 Million CNY.
2. Golmud-Korla Railway
Golmud-Korla Railway is a class I mixed passenger and freight electrified railway connecting Golmud City, Haixi Mongolian and Tibetan Autonomous Prefecture, Qinghai Province, and Korla City, the capital of Bayingolin Mongolian Autonomous Prefecture, Xinjiang Uygur Autonomous Region in China. It is an important part of the network framework in Northwest China and is known as the "new Silk Road in the desert". The construction of the Geku railway was started on December 28, 2014. The total length of the main line is 1213.7 km, including 505.6 km in Qinghai and 708.1 km in Xinjiang. The design speed is 120 km / h. On December 9, 2020, the Geku railway from Korla in Xinjiang to Golmud in Qinghai, a national key railway construction project that lasted six years, was put into operation. During 2018-2019,
Anyang railway equipment Co., Ltd.
provided 127,895 elastic support block boots and support block rubber pads to the Geku railway from 2018 to 2019. The contract amount reached 23 Million CNY.
3. Southern Xinjiang Railway
Southern Xinjiang Railway is the main railway trunk line in southern Xinjiang, with a total length of 1446 kilometers. This railway extends along the middle road of the ancient "Silk Road". The geological, geomorphic, and climatic conditions along the railway are very complex. There is high-temperature Gobi desert at 45 ℃, ice reaching plate at minus 30 or 40 degrees, and gales blowing with force 78 strong winds all year round. More than half of the whole line passes through Tianshan valley. The Korla Kashgar section of the Southern Xinjiang Railway is located in Bayingolin Mongolian Autonomous Prefecture, Aksu Prefecture, Kizilsu Kirgiz Autonomous Prefecture, and Kashgar Prefecture, with a total length of about 989 km. In 2019,
Anyang railway equipment Co., Lt
d. provided 1,348,656 sets of type II fasteners for the Korla Kashgar section of South Xinjiang Railway for a speed increase and capacity expansion reconstruction project, with a contract amount of 37 Million CNY.
Welcome to visit https://youtu.be/yuU94aZ9fV4 to get more information about the great railway project
.